The latest auction at Hake's Auctions' is wrapping up tomorrow, and there are a few trading cards of note on the auction block. While they were from different sports and different eras, they all had one thing in common: they were protected. Not all scored high grades, but in order for cards from the 1960s, 1970s and 1980s to survive this long, they had to be well-taken care of. Read on to see what went for what, and then check your collection for tomorrow's car payment.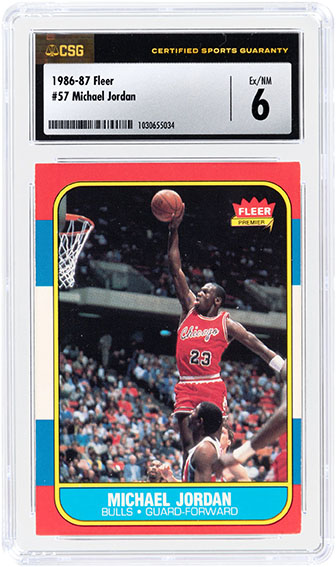 1986-87 FLEER #57 MICHAEL JORDAN ROOKIE CARD CSG 6 EX/NM
Pretty much the only basketball card you'll ever need, right? From the listing: "The 1986-87 Fleer Basketball set was a landmark offering. After the expiration of Topps license to produce NBA basketball cards following the 1981-82 season, there would be no major card manufacturer producing basketball cards for the next four years until Fleer finally obtained the rights to produce NBA cards in 1986. Due to the four-year absence of basketball cards, all of the rookies who entered the league from 1982-86 had no nationally distributed basketball cards, thus, making this Fleer edition, the highly sought-after source for rookie cards of NBA stars: Jordan, Olajuwon, Barkley, Malone and many others." Currently bidding at $2,536.60.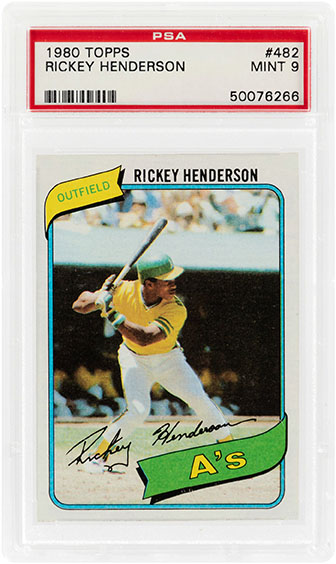 1980 TOPPS #482 RICKEY HENDERSON ROOKIE CARD PSA 9 MINT
Everybody probably has a Rickey Henderson card in their collection. But do you have THE Rickey Henderson card? From the listing: "Not only a key card in this set, but one of the key rookie cards from the 1980s. Henderson's accolades are as large as his ego. A ten-time All-Star, AL MVP, MLB record holder in career stolen bases and runs, two-time World Series champ. Elected to the National Baseball Hall Of Fame in 2009. This is a pack-fresh, high-grade example." Now up to $955.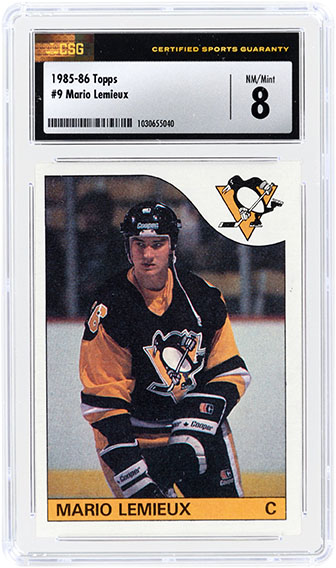 1985-86 TOPPS #9 MARIO LEMIEUX ROOKIE CARD CSG 8 NM/MINT
How many hockey players can you name? And no, Gretzky doesn't count. From the listing: "'The Magnificent One' is one of the greatest players of all time. Career totals of 690 goals, 1,033 assists and 1,723 points. He and Wayne Gretzky occupy all of the top 10 places in the NHL records for points and assists in a season. A five-time Stanley Cup champion w/the Penguins as a player and owner (the only person in history to accomplish this). Inducted into the Hockey Hall of Fame in 1997." Bidding at $200.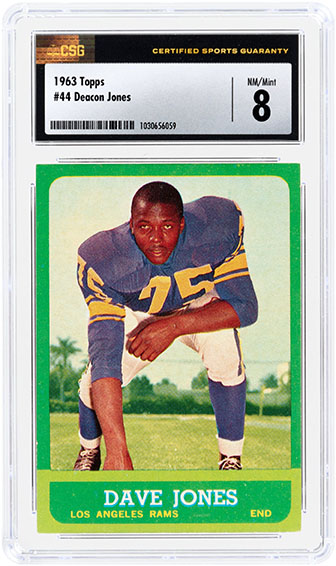 1963 TOPPS #44 DEACON JONES ROOKIE CARD CSG 8 NM/MINT
If I had to choose between the names "Deacon" and "Dave," I'd choose "Deacon," too. From the listing: "Deacon, a true star of the gridiron, was two-time Defensive Player of the Year, eight-time All-Pro and five-time sacks leader. A member of the NFL 100th Anniversary All-Time Team. Elected to the Pro Football Hall Of Fame in 1980." Currently going for $300.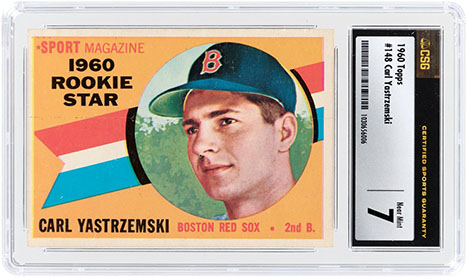 1960 TOPPS #148 CARL YASTRZEMSKI ROOKIE CARD CSG 7 NM
One of the hardest-to-spell names in professional baseball. From the listing: "Yastrzemski played his entire 23-year MLB career w/the Boston Red Sox (1961-1983). An 18-time All-Star. Inducted into the MLB HOF in 1989." Now bidding at $300.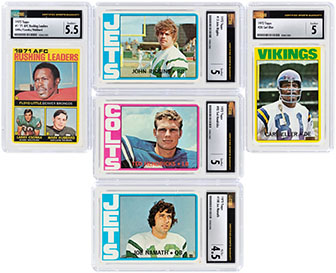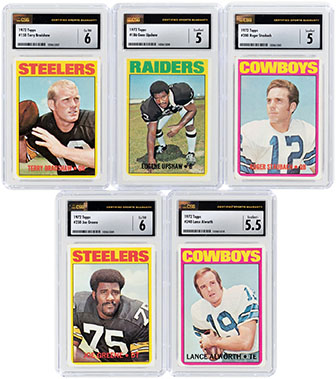 1972 TOPPS FOOTBALL COMPLETE LOW NUMBER CARD SET (1-263) WITH 10 KEY CARDS CSG GRADED
Joe Namath! Terry Bradshaw! Mean Joe Greene! My God, it's full of stars! From the listing: "By far the key card in this set is #200 Roger Staubach RC CSG (EX 5). The other nine CSG graded cards (all HOF) are: #1 AFC Rushing Leaders (Csonka) EX+ 5.5, #13 John Riggins RC (EX 5), #20 Carl Eller (EX 5), #93 Ted Hendricks RC (EX 5), #100 Joe Namath (VG/EX+ 4.5), #150 Terry Bradshaw (EX/NM 6), #186 Gene Upshaw RC (EX 5), #230 Joe Greene (EX/NM 6), #248 Lance Alworth (EX+ 5.5). Other key cards include: Archie Manning RC, Jim Plunkett RC, Bob Griese, Gayle Sayers, O.J. Simpson, Johnny Unitas and more." Opening bid of $500.